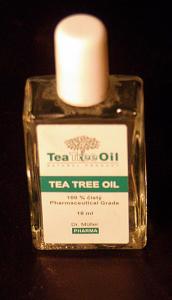 Undergoing Chemotherapy? 
If you are in the process of undergoing chemotherapy, you may have some issues with your nails. Many people have reported nail issues including onycholysis, fungal infections and even nail loss while using Taxotere, Taxol and Xeloda. If you are experiencing these issues tea tree oil may benefit you during chemo.
Before Using Tea Tree Oil
First and foremost you should take great care of your nails in general when undergoing chemotherapy. You should always stay hydrated, keep your nails neatly trimmed and clean. Also coating them in dark nail polish or gloves can help prevent infections.
How it Works
Another very effective way of keeping nail damage and infection (including fungal) to a minimum is by using tea tree oil. Tea tree oil is one of the most powerful all natural anti-bacterial and anti-fungal oils in the planet. When applied daily to nails, it can work wonders by staving off and fighting nail infections. It is also much cheaper than commercial OTC brand anti-fungal and anti-bacterial cremes.
Directions for Use
Tea tree oil is a very powerful oil, so daily applications should be thin. If you are new to this oil you should first start off with a diluted version to test your skin's tolerance. You can dilute in straight water or use a carrier oil of your choice. Chemotherapy is a difficult journey, but small victories can make all the difference in your resolve. If you can maintain healthy nails during this time, you can have just one less thing to worry about.
Where to Buy
It is critical you only buy the top quality brand of tea tree oil. Be sure any oil you buy is highly rated, organic, pharmaceutical-grade and includes the latin name on the packaging to ensure it is the real deal.
I highly recommend Mountain Rose Herbs brand of organic tea tree oil. The oil costs slightly more than traditional oils (like NOW) that you would buy at the store, but the quality is top notch, well worth the extra two dollars, and will last you months if applied daily.
Click Here to Buy
Rating: ★★★★★
Safety Precautions
If you are pregnant please avoid using tea tree oil. Also, keep this essential oil away from pets and children. Never ingest essential oils! Be safe and smart!
Please comment below with any questions and best of luck.